For Press Kit please mail to:
music (at) jennyweisgerber.com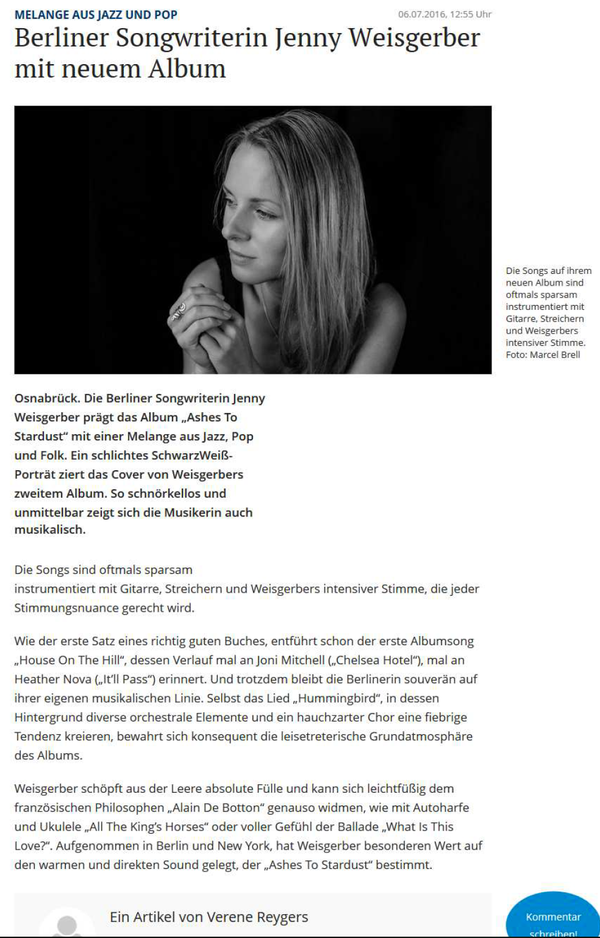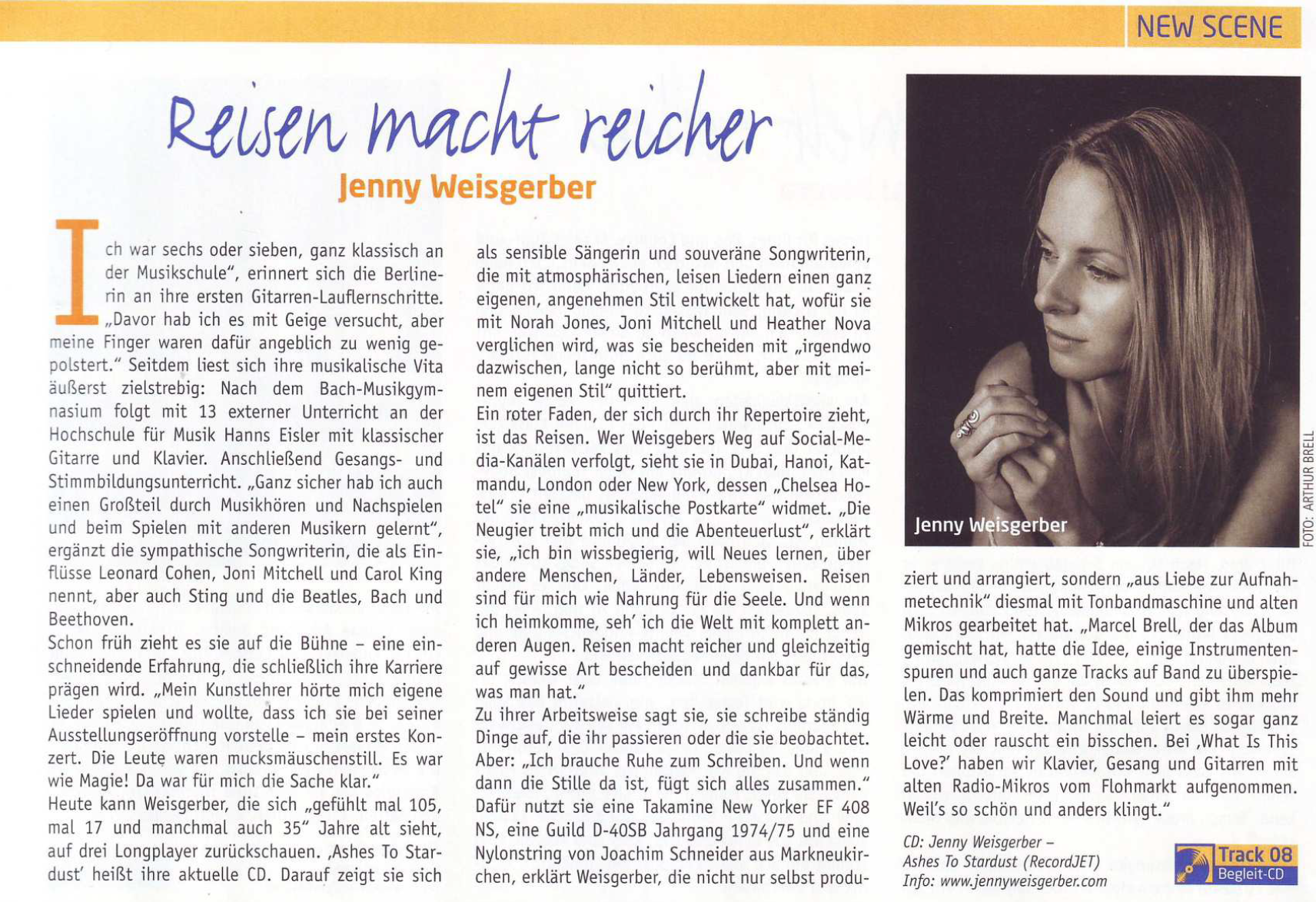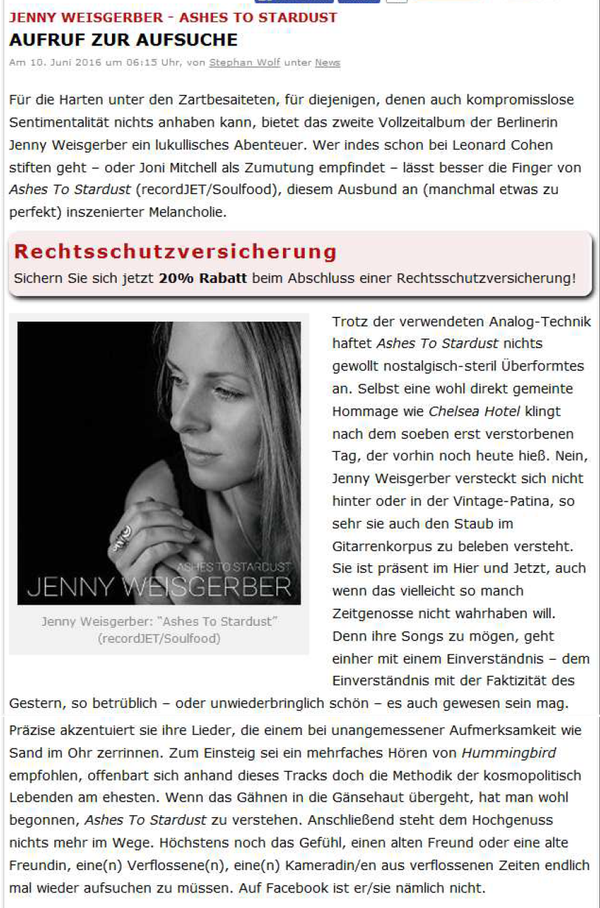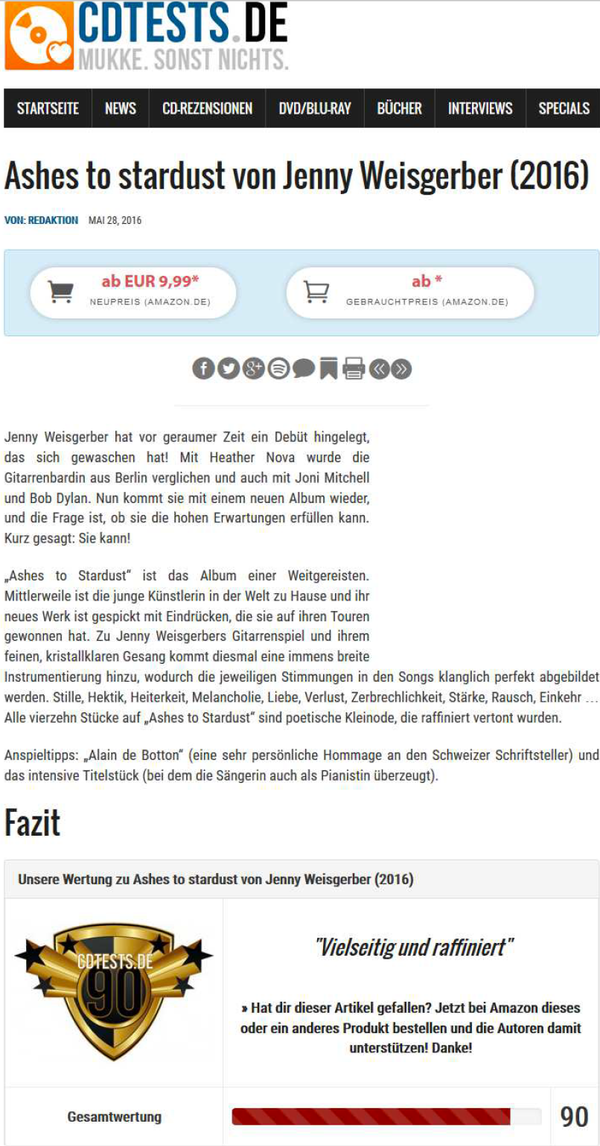 Berlin Tagesspiegel
When Jenny Weisgerber sings there is an immense strength and conviction in her wonderful songs. Joni Mitchell-like and open guitar chords. Impressive.

TIP Magazine
An acoustic guitar with open chords. A bright beautiful voice with open expression. Between crystal clarity and breath steamed glass. An open face with clever eyes. Between blue melancholy and uninhibited happiness. Poetic lyrics with open ending. Between pain, sadness and defiance.

VISIONS
Pop songs in the neighbourhood of Heather Nova. Music like elegant furniture in which one feels comfortable.

Rolling Stone
"When Worlds Collide" moves tastefully in a jazzy folk style. Nora Jones-fans would certainly like the album.

STEREO Magazine
This melody blessed chamber music folk pop convinces undoubtedly of her talent. Jenny Weisgerber shows herself to be a romantic who knows about the ambivalence and the fragility of feelings.

Spuren (Switzerland)
 "When Worlds Collide" (SoulMaid) is a collection of ten original compositions that reflect in depth the "lightness" of being that waken in my mind memories of the young Joni Mitchell and are perfectly suited to playfully round off a pleasantly solitary evening.

Folker!
To let herself be photographed by Jim Rakete 30 years after Nina Hagen and to begin her debut album with a track called "Grains of Sand", - through which an association with Bob Dylan and his "Every Grain of Sand" is unavoidable - could mean two things: totally crazy or a refined and clearly defined sense for quality. If not all that at once: Jenny Weigerber's musical roots reach back at least to singer/songwriter icons like Carol King or Carly Simon. She is obviously not available for stylistic approaches to contemporary Power Girl production standards of questionable taste. And that is a good thing, for she seems to have a good chance to carve out her very own niche.

IO-Pages (Holland)
The sweet voiced, guitar and piano dominated pop is a very sparkling production with beautiful songs and melodies. Weisgerber's voice is high and airy and is an important part of the total sound of this (a bit too short) record.

EMERGENZA (Spain)
The blonde German musician with a very natural demeanor, made the audience fall in love with her sweet voice that perfectly matched the intimate repertoire she had prepared for the evening. Her conviction and professionalism showed us why she was the winner of the German Emergenza Final.